Welcome to Season Three. You're going to need all the help you can get against the competition, and that starts with a new shipment of weapons.
First introduced in the original Black Ops, the Ballistic Knife is ready for use once again in Black Ops Cold War Multiplayer and Zombies starting at the launch of Season Three, and later in the season in Call of Duty®: WarzoneTM. Available via in-game challenge or the "Disappearing Ink" Store bundle, the Ballistic Knife is a tactician's dream: a swift melee weapon paired with bladed projectiles for distant slaying.
Here's what you need to know to unlock the Ballistic Knife: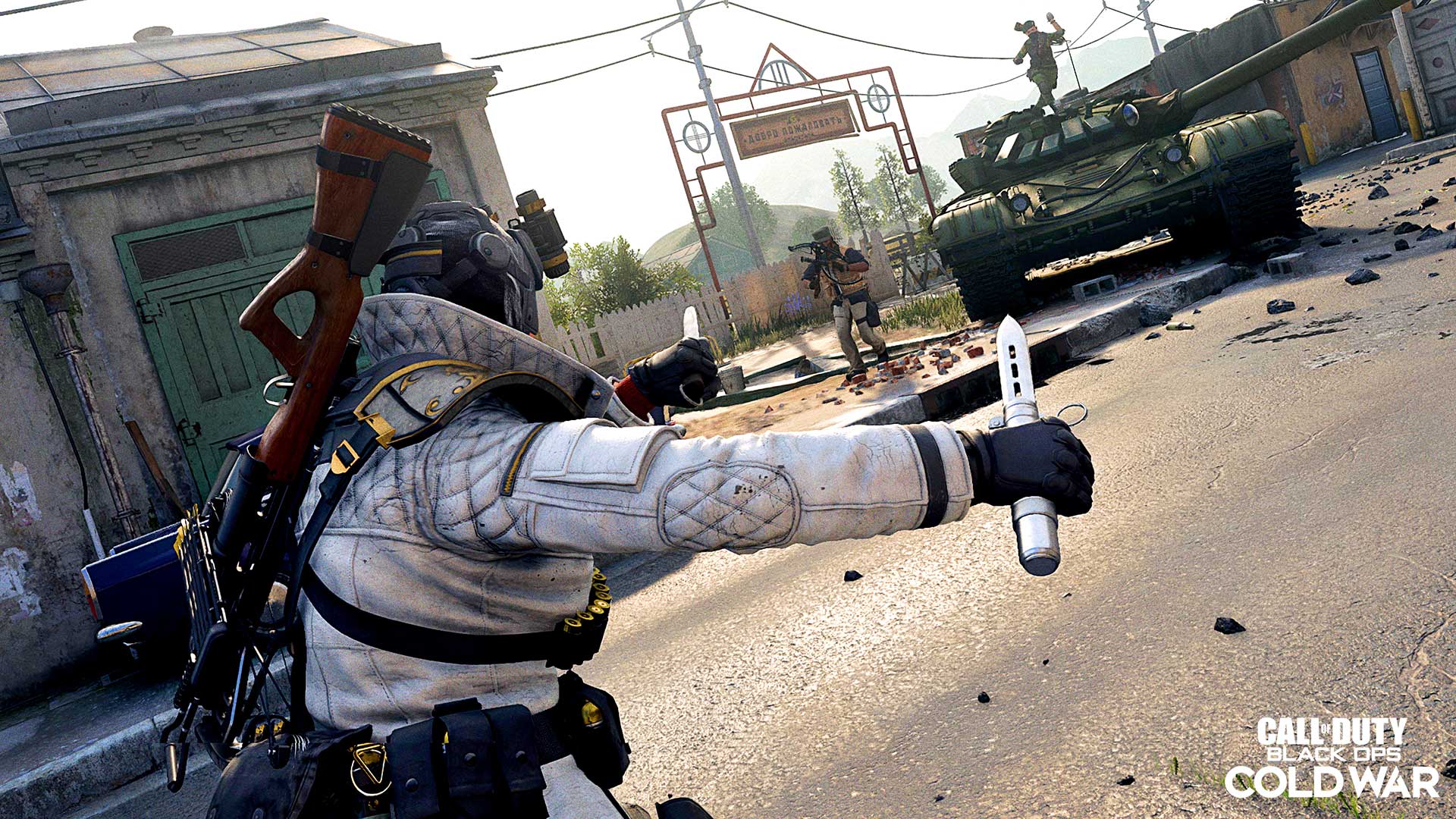 Unlocking the Ballistic Knife — Tips and a Bundle
The Ballistic Knife is the perfect tool for a CIA Operator, or any Operator appreciative of stealthy weapon design. Unlock the base version of the Ballistic Knife in-game by completing the unlock challenge in either Multiplayer or Zombies.
Here's the Multiplayer challenge:
Get a One Shot, One Kill medal and a melee kill in the same life in 15 different matches.
Now, that's going to require some tactical ingenuity. 
For our Zombies players out there, the unlock requirement is a bit different:
Kill 300 enemies while you are using a Special or Melee weapon that is of Epic or Legendary quality.
You've got some work ahead. Here are five tips to help you along the way.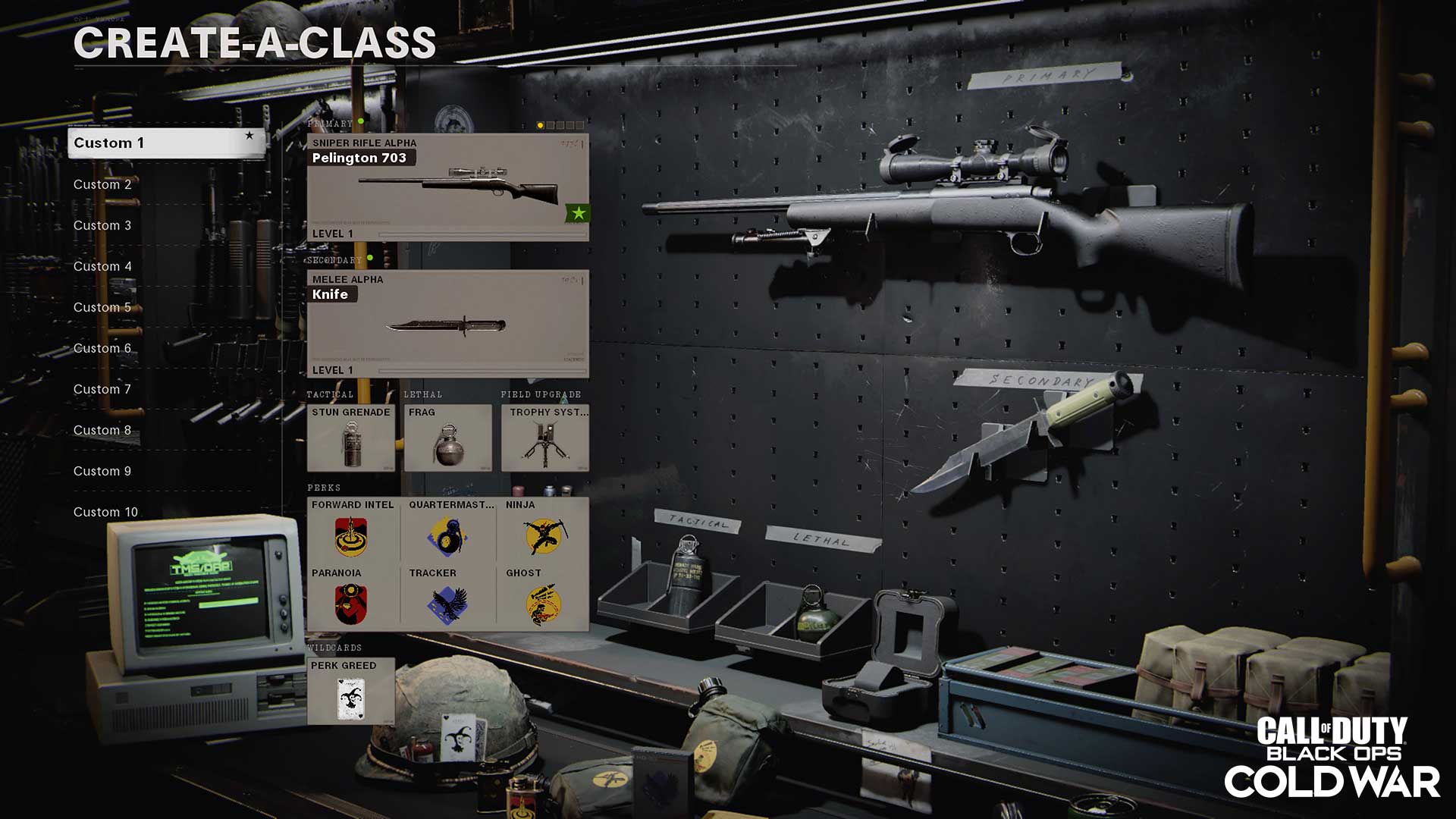 5. Multiplayer Loadout Suggestion. It's no easy feat to get a One Shot, One Kill medal and a melee kill in one life, but it's entirely possible for the prepared Operator. Here's what we recommend when completing the challenge in Multiplayer:
Primary Weapon: Pelington 703 w/ 25" Extended Barrel
Secondary Weapon: Knife
Perk 1: Paranoia & Forward Intel
Perk 2: Quartermaster & Tracker
Perk 3: Ghost & Ninja
Equipment: Stun Grenade (Tactical), Frag (Lethal)
Field Upgrade: Trophy System
Wildcard: Perk Greed
The Pelington 703 lands a one-shot kill to the head and chest, so get your marksman hat on. Choose your pick of attachments, depending on whether you want to take up a traditional sniping role or make something more suited to mobile play. We suggest at least the 25" Extended Barrel attachment for improved bullet velocity.
Perk Greed gives you access to a range of Perks focused on tracking down the enemy while remaining hidden. Take Paranoia and Forward Intel in the Perk 1 slot for greater peripheral and mini-map awareness. Use Quartermaster primarily to resupply your Stun Grenade, invaluable when going in for the melee kill, along with Tracker to detect enemy footprints. Take Ghost and Ninja to keep a low profile as you chase them down.
Remember, your goal is to get a melee kill and a One Shot, One Kill medal in one life during the match. Try playing defense in objective modes. Land a one-shot kill on a distant foe with the Pelington, then swap to your Knife as reinforcements come after you. Toss down the Trophy System to prevent them from flushing you out with grenades, and land that melee kill when they break into close range.
4. Join a Hardcore Playlist. Every gun hits a lot harder in Hardcore playlists, making it a good avenue for earning One Shot, One Kill medals with a greater variety of weapons, like tactical rifles, shotguns, and pistols. Give Hardcore a try and you'll be wielding the Ballistic Knife in no time… that is, if you can get in close enough for the melee kill. And when is that a problem?
3. Get Up Close in Face Off. With small team sizes and a rotation of tiny maps, Face Off gives plenty of opportunities for melee kills. Here, it's worth going for the melee kill first and then focusing on the One Shot, One Kill medal, but don't restrict yourself. You'll have a lot of chances within a match to complete the challenge requirement.
When it's in rotation, Sticks and Stones is also a great mode for earning progress toward this challenge while using the Ballistic Knife to rack up those melee kills!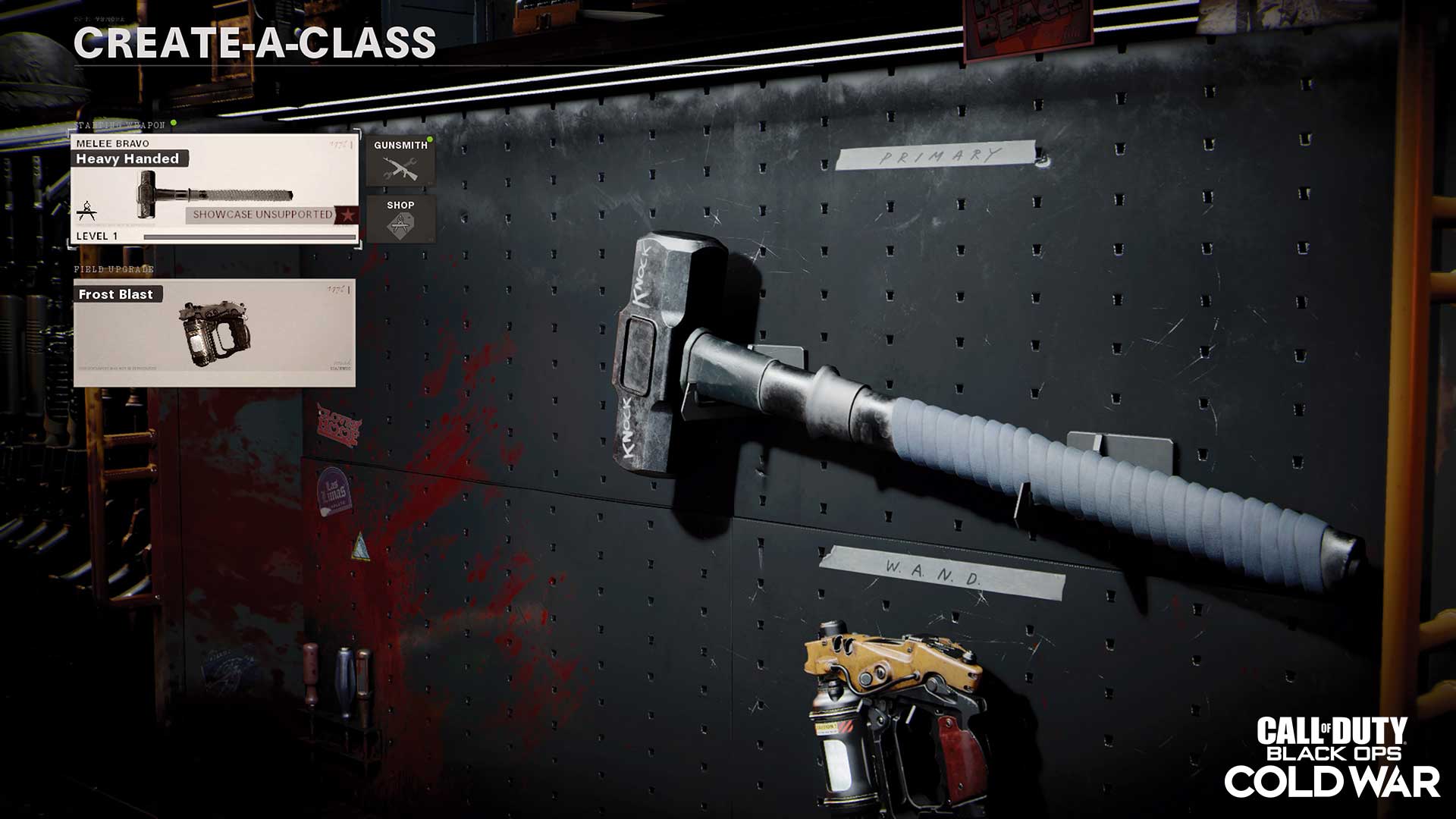 2. Zombies Loadout Suggestion. Pick up that Salvage, Requiem Agents. You're going to need it for this one. Unlocking the Ballistic Knife in Zombies requires getting 300 kills with an Epic or Legendary rarity Melee or Special weapon. Here's what we recommend:
Starting Weapon: Knife or preferred melee weapon
Field Upgrade: Frost Blast
Get right to the challenge by equipping the Knife as your starting weapon. Your first goal: Upgrade the Knife to Epic quality using the Arsenal. Get a ranged weapon while gathering the needed Salvage to upgrade your Knife to Uncommon, Rare, and finally to Epic.
Once your knife reaches Epic quality, start slicing away to tally up 300 kills. Use Frost Blast as a means to freeze groups in place while you melee them, or as a getaway if you start getting swarmed. Juggernog is highly recommended. And remember, you don't need all 300 kills in one match. If you go down to the horde, load up a new match and get back to work.  
1. Pack It. Don't neglect the power of a Pack-a-Punched melee weapon. You might be tempted to skip it in favor of boosting your gun first, but you'll be surprised how much damage you can do with your melee. You'll also become a better Zombies player, learning to move and evade right up close to the zombie horde. Good luck. Don't hesitate.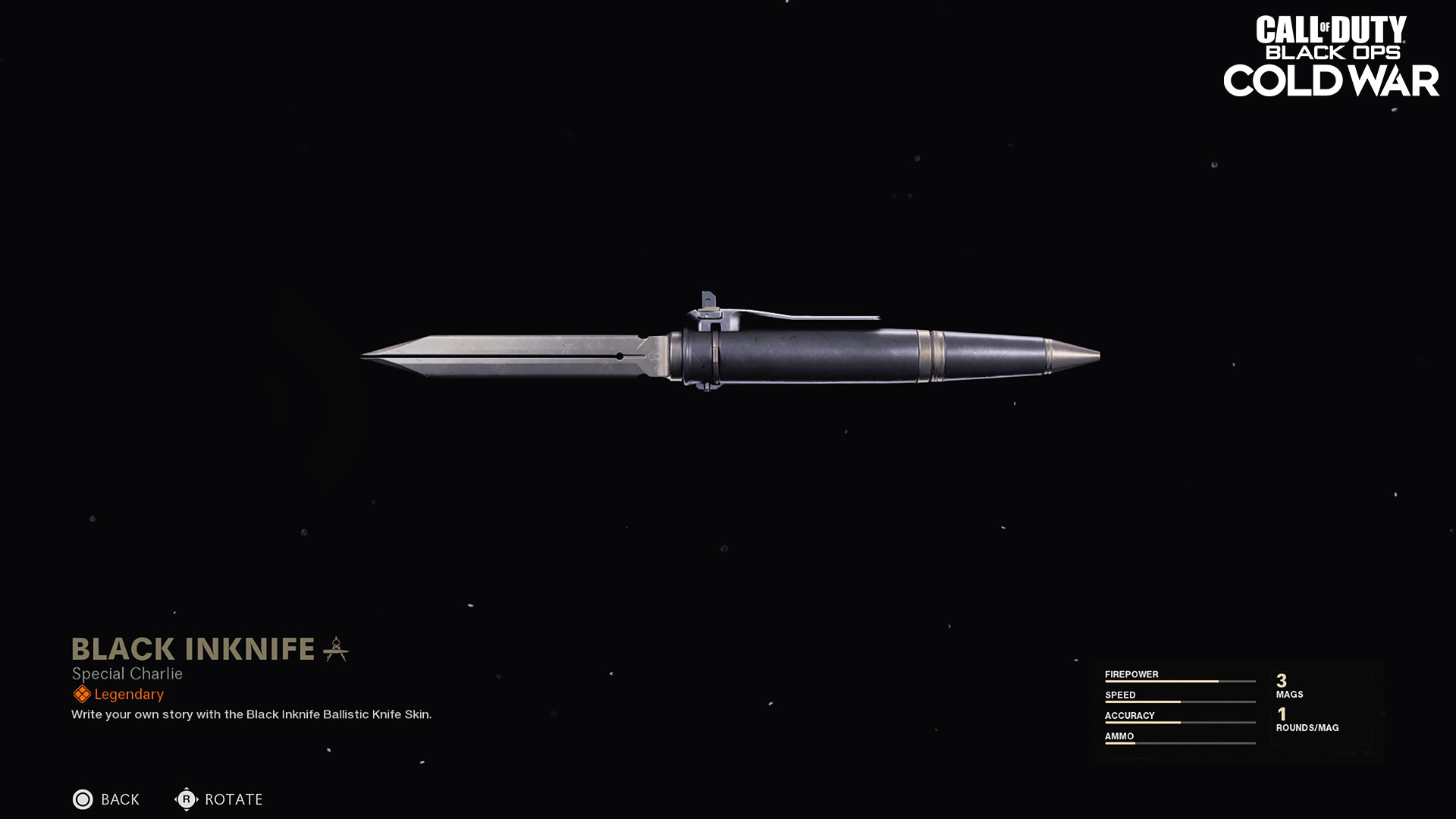 Unlock the Ballistic Knife in the Store
Fingers already twitching for the Ballistic Knife? Get your hands on a Blueprint version before completing the in-game challenge with the Legendary "Black Inknife" Weapon Blueprint.
Featured in the new Season Three "Disappearing Ink" bundle in the Store, the "Black Inknife" Blueprint is designed for the undercover agent or spy who needs a tool as suited for diplomacy as it is for combat. The bundle also includes the "Ballistic Blast" Finishing Move, the Epic "Armed & Charged" Wrist Accessory, "Blood Letter" Emblem, the "Quiet" Gesture, and "Schematic" Calling Card.
Pick up the "Disappearing Ink" bundle today to get your hands on this new Special weapon before completing its challenge. Keep in mind that the "Black Inknife" Weapon Blueprint won't unlock the base version of the weapon, however. For that, you'll first have to prove yourself by completing the challenge.
Execute the mission.
For more information on Call of Duty®: Black Ops Cold War, check out: www.callofduty.com and www.youtube.com/callofduty and follow @Treyarch, @RavenSoftware, and @CallofDuty on Twitter, Instagram, and Facebook. 
© 2021 Activision Publishing, Inc. ACTIVISION, CALL OF DUTY, CALL OF DUTY BLACK OPS, CALL OF DUTY WARZONE and WARZONE are trademarks of Activision Publishing, Inc.
For more information on Activision games, follow @Activision on Twitter, Facebook, and Instagram.